The Leadership Seminar provides an opportunity for participants to learn from a panel of experts who share their experiences in public service. These leaders blend a layered and nuanced approach for participants on how to navigating a rapidly changing workplace and marketplace in highly visible organizations.
Women who work at the local, state, or federal level of government or who interact with the government through private sector employment are encouraged to apply for admission into the Wisconsin Women in Government Leadership Seminar. Approximately 25 women are accepted into the program. The seminar provides leadership training and networking opportunities, including instruction by faculty of the La Follette School of Public Affairs at the University of Wisconsin-Madison.
Tuition for the seminar is $400 per person. Tuition is highly subsidized and a fraction of the actual cost of the program. Participants are encouraged to bring questions to facilitate a lively discussion.
More Information & Application
Featured Story
WWIG Board Member and Leadership Seminar Graduate Gail Good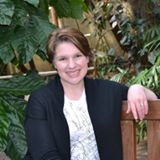 "10 years ago, I had the opportunity to participate in the Leadership Seminar myself and am honored to be able to call myself a graduate. The seminar gave me the chance to connect with smart, talented, energetic, and accomplished women who wanted to focus on their career.
Prior to this year's seminar, I was going through my class binder so I could share it with one of this year's attendees who I am friends and co-workers with. As I was paging through the materials and my work, my mind focused on several memories of who I was 10 years ago and my experiences in the seminar. I landed on an assignment that asked me to identify my career goal. I looked through my own assessment of what I thought my strengths were as well as some areas to focus on because I felt they needed work.
The assignment was the first time I ever wrote down my career goal and made a plan to achieve it. It jumpstarted for me, a focus on my career path at the Wisconsin Department of Natural Resources that took me from an atmospheric dispersion modeler in the air program, to the Air Monitoring Section Chief, and then just 6 months ago, to my dream job and the one I wrote down 10 years ago and made a plan for, the Air Management Program Director.
The seminar gives women in government roles a safe forum to think critically about themselves and their career. It also provides an opportunity to connect with other women in government and to learn through sharing of experiences. Finally, the seminar provides guidance in creating an action plan for the future."