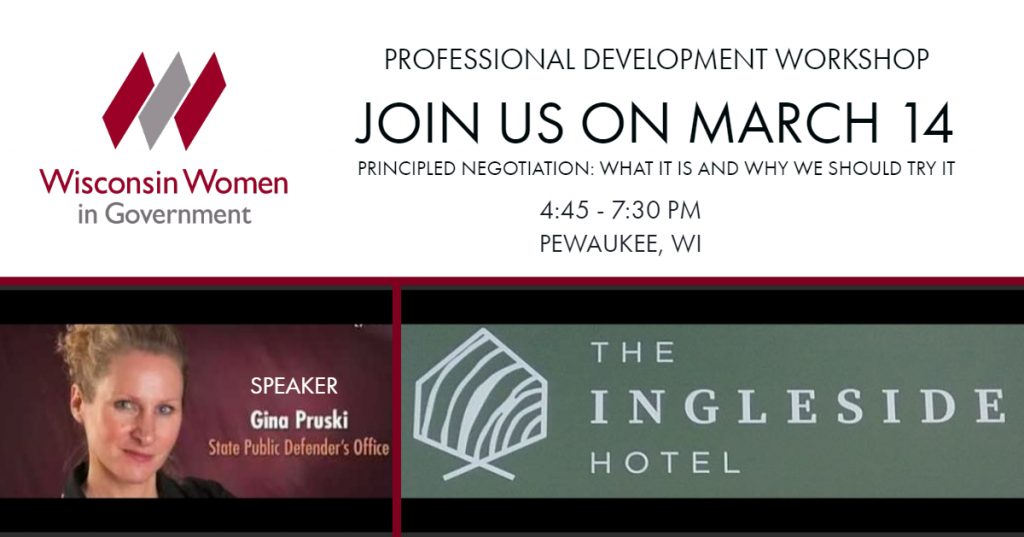 Professional Development Workshop
Thursday, March 14, 2019
4:30 pm – 7:00 pm
Ingelside Hotel
2810 Golf Rd, Pewaukee, WI 53072
This series has been designed to provide leadership, mentor-ship and to bring together women from different backgrounds and ideologies to share experiences and foster diversity through professional networking sessions.
About the Workshop: Negotiations
The workshop will be an educational training opportunity to learn about and refine attendees' negotiation skills.
The program will address negotiation skills applicable to:
Develop an effective plan and appropriate strategy for any negotiation
Build confidence and credibility in asking for what you want
Become more strategic in your professional and personal negotiation
Contracts, Interpersonal relationships, and Day to day work product
Who Should Attend: The Professional Skills Workshop is an opportunity for everyone, in all stages of your career!
4:45 pm Check –in & Networking
Heavy Appetizers and cash bar
5:15 pm Principled Negotiation: What it is and why we should try it
In this interactive workshop, participants will learn the basic approach to principled negotiation. Principled negotiation, developed at the Harvard Negotiation Project and detailed in the book Getting to Yes by Roger Fisher and William Ury, focuses on problem-solving, mutual gains and decisions based on the merits. It's a style of negotiation where people get what they're entitled to while still remaining decent.
1 CLE
Gina M. Pruski, Director of Training and Development, Wisconsin State Public Defender's Office (SPD)
6:30 pm Networking

WWIG Event Sponsorship Form – Professional Development Workshop