WWIG is thrilled to be recognizing the following outstanding recipients of WWIG's annual Legacy and Rising Star Awards at the upcoming virtual gala. We hope you will join us in honoring these exemplary women.
Makda Fessahaye
The "Rising Star Award" honors one woman who has been in her profession for 10 years or less but has demonstrated excellence by making an extraordinary impact in her profession relative to her years of service.
Makda Fessahaye serves as the Director of Employee Relations for the City of Milwaukee.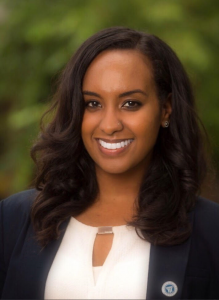 She was appointed by Mayor Tom Barrett to the role and serves as chief human resources officer for the City and oversees its civil service system. She is responsible for advising the mayor and cabinet members on employment matters and regulatory compliance.
Makda previously served as the Administrator for the Wisconsin Department of Corrections' Division of Adult Institutions under Governor Tony Evers. She was responsible for operations of the division, which includes 36 correctional facilities, and 6 offices and bureaus. Prior to her role as Administrator, Makda served as Legal Counsel for the Wisconsin Department of Corrections.
Makda serves in leadership positions for various organizations; she currently serves as the immediate past-president of the Wisconsin Association of African-American Lawyers, is on the State Bar of Wisconsin's Leadership Development Committee, serves on Marquette University Law School's Diversity Recruitment Committee, is a member of Women in Focus, Inc. and is a Supervising Attorney for the Unemployment Appeals Clinic. In 2017, Makda was recognized at The Business Forum's ATHENA Young Professional Awards, and in 2018, was named as one of Marquette University Law School's "Rising Stars". In 2019, she was named by her high school as the Young Alumni of the Year and was named by the Wisconsin Law Journal as one of 2019's Up and Coming Lawyers. In Business named her to its 40 Under 40 class of 2021.
Makda received her undergraduate degree from Northwestern University in Communication Studies with a minor in Political Science, and her Juris Doctor from Marquette University Law School. She is a 2017 alumna of the Wisconsin Women in Government Leadership Seminar.
Tina Virgil
The "Legacy Award" honors one woman who has made significant professional contributions throughout her career to local, state, and/or national government.
Tina Virgil serves as the Administrator of the Division of Law Enforcement Services at the Wisconsin Department of Justice.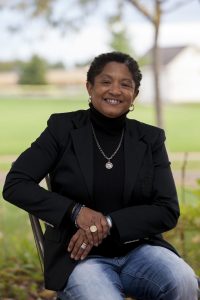 She was appointed to this position by AG Josh Kaul on January 6, 2019. Tina has served under five Attorneys General in a variety of roles during the past 28 years at DOJ. Among her service, Tina was designated by AG Brad Schimel in 2016 as the Director of the newly created Bureau of Special Investigations overseeing critical-incident response for officer-involved shootings for the Division of Criminal Investigation. She also held the position of State Fire Marshall. Tina has served as Executive Director of the Office of Crime Victim Services appointed by AG J. B. Van Hollen in 2007. In addition, Tina is a sworn law enforcement officer with Wisconsin's State Capitol Police Department.
Tina has been active in a variety of statewide and national initiatives, including serving as the Chapter President for the National Organization of Black Law Enforcement Executives (NOBLE), a member of the State Council on Alcohol and Other Drug Abuse, the National Court Appointed Special Advocates Association, and the National Association of Women in Law Enforcement Executives.
Tina received her Bachelor of Science Degree double-majoring in Criminal Justice and Psychology from Edgewood College and graduated from Northwestern University School of Police Staff and Command. She is also a graduate of the Wisconsin Command College.
These outstanding women will be recognized at WWIG's first virtual gala on April 14th.
Wisconsin Women in Government is thrilled to be hosting our first-ever virtual Scholarship and Recognition Gala featuring Irin Carmon and Shana Knizhnik, authors of New York Times Bestseller, Notorious RBG: The Life and Times of Ruth Bader Ginsburg.