Life Not Only Begins At 30, It Begins To Show!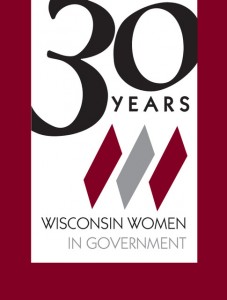 Wisconsin Women in Government (WWIG) is celebrating 30 years of bipartisan investments made, and we have a lot to show for our 30 years.
WWIG is proud of its success in inspiring and encouraging young women to enter public service. Some of our accomplishments include:
In the past 16 years, more than 375 women have benefitted from WWIG's collaboration with UW LaFollette School of Public Policy on the leadership seminar.
Over the past 29 years, with your support, WWIG has raised over $1.2 million for undergraduate, Badger Girls State, and leadership seminar scholarships.
Each year, WWIG awards scholarships to young women to attend Badger Girls State and to the student elected Governor.  Scholarships are also provided to women pursuing government-related undergraduate and post-graduate study at any Wisconsin institution of higher education.
Recognition of your support
Your donation will be recognized at our event in several ways. Your organization will be placed on all materials, press releases, social media and banners that publicize the event as well as announced verbally at the event itself.
For your convenience, you can sign up online via this link or download form.
Questions or need more information? Contact Teresa or Margaret
2017 Gala Sponsorship Levels

Level

Benefits

Investment

Platinum Sponsor

20 Tickets for WWIG Annual Gala
Private VIP Reception for 10
Opportunity to speak for 3 minutes at all WWIG events
Recognition in the Annual Awards program and WWIG website
Logo on all Marketing of the Gala
Premier Reserved Table during Program
$8,800 are a Charitable Deduction

$10,000

Gold Sponsor

10 Tickets for WWIG Annual Gala
Private VIP Reception for 10
Opportunity to speak for 2 minute at all WWIG events
Recognition in the Annual Awards program and WWIG website
Logo on all Marketing of the Gala
Premier Reserved Table during Program
$6,700 are a Charitable Deduction

$7,500

Silver Sponsor

10 Tickets for WWIG Annual Gala
Private VIP Reception for 5
Recognition in the Annual Awards program and WWIG website
Logo on all Marketing of the Gala
Premier Reserved Table during Program
$4,200 are a Charitable Deduction

$5,000

Bronze Sponsor

8 Tickets for WWIG Annual Gala
Private VIP Reception for 4
Recognition in the Annual Awards program and WWIG website
Logo on all Marketing of the Gala
Premier Reserved Table during Program
$2,020 are a Charitable Deduction

$2,500

Benefactor Sponsor

8 Tickets for WWIG Annual Gala
Recognition in the Annual Awards program and WWIG website
$1030 are a Charitable Deduction

$1,350

Associate
Sponsor

2 Tickets to WWIG Annual Gala
Recognition in the Annual Awards program.
$420 are a Charitable Deduction

$500

WWIG Donor

Recognition in the WWIG Annual Gala Program
This level is a 100% charitable donation

$250